the USS Charles S. Sperry DD697 ASSOCIATION
2020 Reunion
April 30 - May 3, 2020
REGISTRATION DEADLINE IS APRIL 1, 2020!!!!!!!!
<![if !vml]>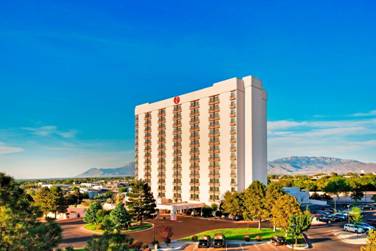 <![endif]>
le 1
 Sheraton Albuquerque Airport  
2910 Yale Boulevard S.E.
Albuquerque, New Mexico 87106
At the 2018 Reunion in Jacksonville, FL, the members present voted to go to Albuquerque, NM for 2020. This will be the FIRST TIME in Albuquerque!!!
We have a Friday tour of the Indian Pueblo Cultural Center, lunch on your own dime when we stop at the Canteen Brewhouse, a visit to the National Hispanic Cultural Center, and a visit to the New Mexico Veterans' Memorial lined up. There is no cost for this tour, except for lunch on your own, so we hope that you will join us for a great time. There is a Ladies Luncheon planned for Saturday.
For reservations, call the hotel directly @ 505-843-7000. If you call, please mention that you are with the "USS Charles S. Sperry Reunion" and ask for THE REUNION RATE, which is good 3 days prior and 3 days after for those problematic travel arrangements. DO NOT use their public website to make reservations! You can book reservations online @ their DESIGNATED SPERRY RESERVATION WEB PAGE HERE. Reservation deadline is April 1, 2020. Stragglers will be in a space available situation after April 11th. If you have trouble making a reservation, please call Gary.
We do not have a large room block and this hotel regularly books up in advance, so BOOK YOUR ROOM NOW! If necessary, you have until two days before the reunion to cancel the reservation, but if you wait, you may not get a room. PLEASE PRE-REGISTER ASAP, BUT BEFORE THE APRIL 1, 2020 REGISTRATION DEADLINE.
Check out their public web site HERE for local attractions and other information.
The Sheraton Albuquerque Airport hotel is just a short distance from Albuquerque International Sunport (ABQ). There is a complementary hotel shuttle. Cabs and car rentals are available from the airport, as well.
2020 REUNION REGISTRATION FORM IS AVAILABLE HERE TO PRINT OUT.
2020 REUNION DAILY SCHEDULE IS AVAILABLE HERE TO PRINT OUT
Find THE SHERATON ALBUQUERQUE AIRPORT HOTEL WITH Google Maps HERE
Find THE SHERATON ALBUQUERQUE AIRPORT HOTEL WITH WITH BING MAPS HERE
We had a great reunion in DC for the 75th Anniversary of the Sperry's commissioning. We hope that you will join us in Albuquerque for 2020.
ALSO: IF YOU HAVE CRUISE BOOKS OR PICTURES OF YOUR TIME ABOARD THE SPERRY THAT YOU WOULD ALLOW US TO POST ON THE WEBSITE FOR OTHERS TO ENJOY, BE SURE TO BRING THEM ALONG OR CONTACT THE WEBMASTER HERE TO MAKE ARRANGEMENTS TO GET THEM FROM YOU.
For ALL OTHER inquiries about the 2020 reunion schedule or other information, Please email:
Gary Chesser
Email: HERE