the USS Charles S. Sperry DD-697
2022 Reunion
September 11-15, 2022
REGISTRATION DEADLINE IS AUGUST 22, 2022
<![if !vml]>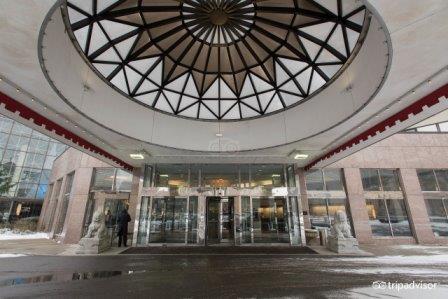 <![endif]>
le 1
UPDATED !!! LOCATION UPDATED !!!!
BUFFALO AIRPORT HOTEL
4600 Genesee St.,
Cheektowaga, NY 14225
1-716-634-6969
At the FIRST joint SPERRY/CONWAY Reunion in September 2021 at Myrtle Beach, SC, the members present of both groups voted to have another joint reunion September 11-15, 2022 in Buffalo, NY where the Conway Association was already booked for 2022, and the next reunion in Albuquerque, NM for 2023.
The originally planned reunion was at the Ramada Wyndham Hotel (the old Buffalo Grand Hotel), but there was a fire there in December, 2021 resulting in extensive damage. The hotel assured the Conway planner that the hotel would be repaired and ready for our September, 2022 reunion. As June 30, 2022 approached, the Conway planner contacted the hotel to check progress on the repairs and was told that they would NOT be ready for our joint reunion.
Our Sperry planners began the process to help find another hotel in a hurry, so our reunion could proceed. In the meantime, the USS Conway Board decided to cancel the joint reunion in Buffalo and reschedule at the same hotel for 2024, and just plan to be together for our joint reunion in Albuquerque, NM in 2023.
The Sperry Board, however, decided to proceed with a Sperry reunion on our own with the same dates (September 11-15, 2022) in Buffalo at a different hotel due to many of our Sperry shipmates having made hard to change plans around our Buffalo reunion dates. In short order, and with much work, the Sperry planners had a contract with the Buffalo Airport Hotel. We developed a schedule with as close to the same tours and meals as possible that were planned by the Conway planners. We welcome any and all Conway shipmates to join with us.
The Buffalo Airport Hotel is just minutes away from the BUF Airport. THEY HAVE A 24HOUR FREE HOTEL SHUTTLE FROM AIRPORT.
Hotel room rate for the Sperry Reunion is $117.00 PLUS tax (double occupancy), which includes breakfast each morning at the hotel restaurant. Rate is good for 3 days pre & post reunion.
CALL the hotel directly at 1-716-634-6969 and REQUEST THE SPERRY REUNION RATE.
Check out this Visit Buffalo web site HERE for local attractions and other information.
2022 REUNION REGISTRATION FORM IS HERE TO PRINT OUT.
2022 REUNION DAILY SCHEDULE IS  HERE TO PRINT OUT
Find THE BUFFALO AIRPORT HOTEL WITH Google Maps HERE
Find THE BUFFALO AIRPORT HOTEL WITH WITH BING MAPS HERE
We also have a contract for the Sheraton Albuquerque Airport Hotel, and will be going to Albuquerque, NM for our May 2023 joint reunion. 
We had a great 1st JOINT reunion in Myrtle Beach with the USS Conway DD-507 group in 2021.
We hope that you will join us in Buffalo, NY for our 2022 SPERRY REUNION. AND in Albuquerque, NM for our 2023 JOINT reunion with the USS Conway DD-507 group.
ALSO: IF YOU HAVE CRUISE BOOKS OR PICTURES OF YOUR TIME ABOARD THE SPERRY THAT YOU WOULD ALLOW US TO POST ON THE WEBSITE FOR OTHERS TO ENJOY, BE SURE TO BRING THEM ALONG OR CONTACT THE WEBMASTER HERE TO MAKE ARRANGEMENTS TO GET THEM FROM YOU.
For ALL OTHER inquiries about the 2022 reunion schedule or other information, Please email:
Gary Chesser
Email: HERE