the USS Charles S. Sperry DD697
& USS CONWAY DD/DE 507
JOINT 2023 Reunion
May 7-11, 2023
REGISTRATION DEADLINE IS APRIL 7, 2023!!!!!!!!
<![if !vml]>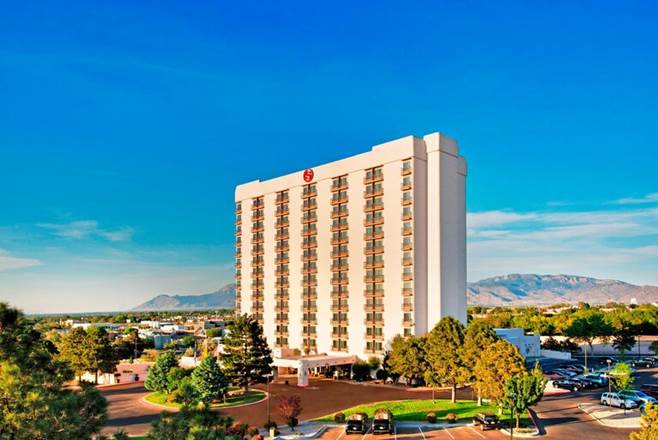 <![endif]>
 Sheraton Albuquerque Airport 
2910 Yale Boulevard S.E.
Albuquerque, New Mexico 87106
Phone:  1-888-625-4937
At the FIRST joint SPERRY/CONWAY Reunion in September 2021 at Myrtle Beach, SC, the members present of both groups voted to have another joint reunion September 11-15, 2022 in Buffalo, NY where the Conway Association was already booked for 2022, and the next reunion in Albuquerque, NM for 2023. The joint reunion was canceled due to a fire in the hotel, but the Sperry planners enabled the Sperry to have a solo 2022 reunion in Buffalo.
This will be the Sperry's FIRST TIME in Albuquerque!!! Plus, it will be the 2nd joint SPERRY/CONWAY reunion.
We have a tour of Santa Fe, and a Discover Albuquerque tour planned with bus transportation provided. Lunch will be on your own dime for both tours. We're excited to get to visit Albuquerque, and we hope that you will join us for a great time. Wheel chairs can be available for use during the reunion.
For reservations, call the hotel directly @ 1-888-625-4937. If you call, please mention that you are with the "USS Charles S. Sperry / USS Conway Reunion" and ask for THE REUNION RATE, which is good 3 days prior and 3 days after for those problematic travel arrangements. DO NOT use their public website to make reservations! You can book reservations online @ their DESIGNATED SPERRY RESERVATION WEB PAGE HERE. Reservation deadline is April 7, 2023. Stragglers will be in a space available situation after April 11th. If you have trouble making a reservation, please call Gary.
We do not have a large room block and this hotel regularly books up in advance, so BOOK YOUR ROOM NOW! If necessary, you have until two days before the reunion to cancel the reservation, but if you wait, you may not get a room. PLEASE PRE-REGISTER ASAP, BUT BEFORE THE APRIL 7, 2023 REGISTRATION DEADLINE.
Check out their public web site HERE for local attractions and other information.
The Sheraton Albuquerque Airport hotel is just a short distance from Albuquerque International Sunport (ABQ). There is a complementary hotel shuttle. Cabs and car rentals are available from the airport, as well.
2023 REUNION REGISTRATION FORM IS AVAILABLE HERE TO PRINT OUT.
2023 REUNION DAILY SCHEDULE IS AVAILABLE HERE TO PRINT OUT
Find THE SHERATON ALBUQUERQUE AIRPORT HOTEL WITH Google Maps HERE
Find THE SHERATON ALBUQUERQUE AIRPORT HOTEL WITH BING MAPS HERE
We hope that you will join us in Albuquerque for 2023.
ALSO: IF YOU HAVE CRUISE BOOKS OR PICTURES OF YOUR TIME ABOARD THE SPERRY THAT YOU WOULD ALLOW US TO POST ON THE WEBSITE FOR OTHERS TO ENJOY, BE SURE TO BRING THEM ALONG OR CONTACT THE WEBMASTER HERE TO MAKE ARRANGEMENTS TO GET THEM FROM YOU.
For ALL OTHER inquiries about the 2023 reunion schedule or other information, Please email:
Gary Chesser
Email: HERE